MEMORIAL COLUMN PROGRAM
Cemetery location: 8306 Union Chapel Road, Indianapolis, IN 46240 - Office location: 9001 Haverstick Road, Indianapolis, IN 46240
Telephone number [317] 252=5883 Fax: [317} 580-1783
copyright 2019 Union Chapel Cemetery Association, Inc.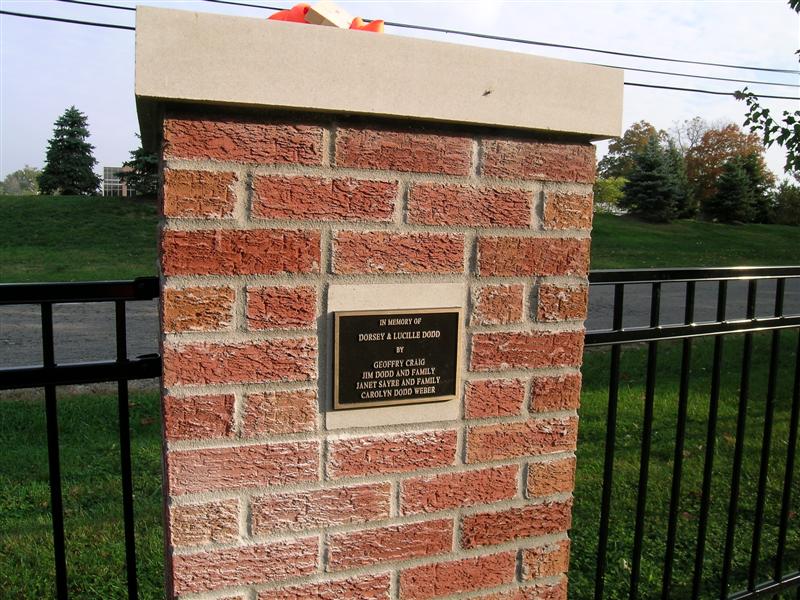 For a limited time, the Union Chapel Cemetery Board of Directors has voted to acknowledge unrestricted gifts of $1,500 or more to the Cemetery by placing a cast bronze memorial plaque on an available column of the donor's choice. The " In loving memory of . . ." or approved alternate wording on each plaque is chosen by the donor and is subject to the approval of the Board.

To date, twenty two memorial plaques have been placed on these fence columns as a result of generous gifts to the Cemetery. The eighteen
remaining columns are available for the Board's conversion to memorials.

If you wish to participate in this program, you are invited to contact the Cemetery office for further information or you can forward a check made out to the Union Chapel Cemetery Association in the amount of $1,500 or more to Susan Machledt, Treasurer, 5202 North New Jersey Street, Indianapolis, IN. 46220. A Board member will then contact you to develop the wording on the plaque and determine your desired column location.

Union Chapel Cemetery is a 501 (c) 13 charitable organization and gifts to the Cemetery may be eligible as charitable tax deductions for those donors who itemize their tax deductions.



When the decorative fences were constructed recently in both the North and South sections of Union Chapel Cemetery, limestone blocks were installed in the inner sides of all 39 of the brick fence and entrance columns so that cast bronze plaques could be placed there to serve as personalized Memorials. An example is shown in the photograph below.